TR700C Multiple Material Batching Weighing Controller
TR700C is a reliable and accurate weight controller, which is equipped with verstaile functions and rich communication.
1. Power: DC 24V, 6 digit LED display
2. DIN Rail, Multiple Material ( up to 4 types) Batching
3. Analog output : 0-20mA,4-20mA,1-5V,0-10V (Optional)
4. Resolution: 50,000 division
5. Communication interface : RS-485, RS-232, CANopen, Modbus TCP, Profibus-DP, CC-Link, EtherNet/IP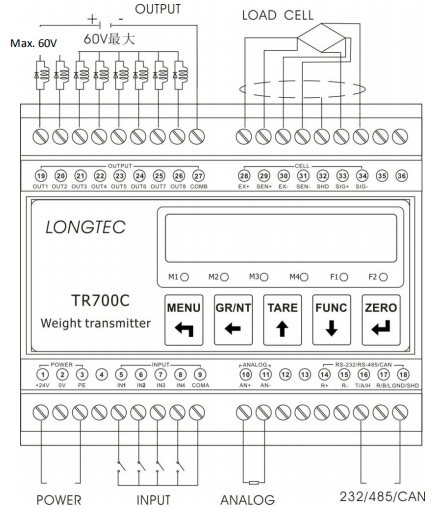 The TR700C can be widely used in food, light, metallurgy, building material, chemical, color, energy, machinery and other industry
If you need more information, please download the Brochure to check the data sheet or contact us directly.
TR700C-User manual.pdf
----------------------------------------------------------------------------------------------------
Sales Engineer
Email: huangzhongjian@longtec.com
Whatsapp: +86 18902811159
Wechat: 345231021